Sunny days herald the arrival of spring and with it asparagus season. In Beelitz near Berlin, early harvest has long been assumed – and this announcement makes many people's mouths water. Because let's be honest: asparagus from a jar is not as good as the fresh version. And there are many recipes for them: try green asparagus with spaghetti and parmesan.
Ingredients for asparagus with spaghetti and parmesan
For 2 people you need 250 grams of spaghetti, 250 grams of green asparagus, 50 grams of parmesan, 1 garlic, ½ organic lemon, salt, pepper, olive oil.
Also read: Can I eat raw asparagus? Here's what you need to know about the popular vegetable – with the recipe! >>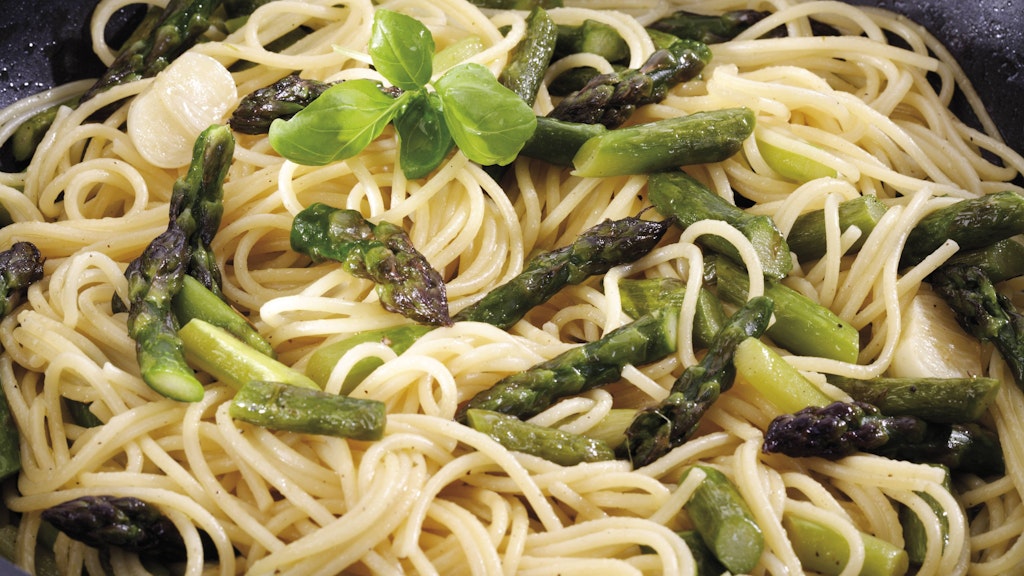 Also read: Delicious asparagus dish with ham: Make your whole family happy with THIS recipe >>
Delicious recipe of asparagus with spaghetti and parmesan
Here's how: First, mince the garlic, wash the asparagus spears and cut off the ends of the stalks and cut them into pieces about four inches long. The head can be a little longer. Then squeeze the juice of half an organic lemon and set aside.
Also read: Asparagus with garlic and parmesan from the oven: THIS recipe is easy and delicious after work >>
Now add the salted pasta water and cook the spaghetti in it until they are a little more al dente.
Meanwhile, fry the asparagus pieces in oil in a pan. After 2-3 minutes add garlic and cook for another 3 minutes. You can add a squeeze of lemon and season everything with salt and pepper. If possible, use freshly ground pepper.
Also Read: Spaghetti with Asparagus Cream Sauce: With this easy recipe you can make delicious food at home >>
Now clean the contents of the pan with a ladle of pasta water. You don't need to dry the noodles in any way, it's better to remove them from the pan with a tongs or a spaghetti spoon. Now you can add the Parmesan, a bit of oil and a bit of lemon and toss everything gently for a minute.
If the noodles and asparagus are shiny enough and the Parmesan hasn't stuck to the noodles at the end, add a little more pasta water until you get the consistency you want. Finally, sprinkle the spaghetti with green asparagus and parmesan with fresh pepper and the dish is ready to serve.
Enjoy your meal!