The best thing about summer? All fresh ingredients for great salads. But this always requires an outfit that looks perfectly tasteful.
My favorite dressing for colorful summer salads made from fresh herbs, tomatoes, cucumbers, cauliflower and berries? Camelina oil with balsamic vinegar, mustard, honey, chili and garlic. Basically, salad dressing is an emulsion, that is, a combination of immiscible liquids such as oil and vinegar. Making this complex requires two things: an emulsifier and a mixer for mixing. This keeps the liquids together. Mustard and garlic are the emulsifiers of this camelina oil dressing. Yes, camelina oil. Its taste is very fresh, it is rich in polyunsaturated fatty acids and contains a lot of vitamin E. I like to use balsamic vinegar for the acidity of the salad, but for the mustard and hot chili, they call it a sweet honey.
"It takes four people to prepare a salad dressing: a wise man for salt, a fool for vinegar, a spendthrift for oil, and a madman for seasoning."
– François Coppée, French writer (1842-1908)
And salad
You get what you want. Salad, tomatoes, cucumbers, onions, herbs, cauliflower, pumpkin or pineapple and walnuts. So blueberries or dried raspberries. In the fresh summer I will drink fruit juice with salad.

Michlits-Stadlmann wine
1.50L
€ 3.50
€ 2.33 / liter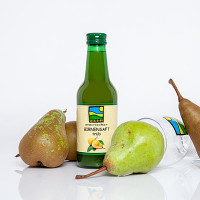 the juice of the Gangl fruit
0.25L – 1L
serve € 1.40
€ 5.60/liter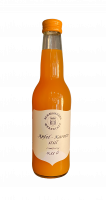 Noble juices Eberl – delicatessen workshop
1 pc – 15 pcs
serve € 2.50
Salad dressing camelina oil
10 tbsp camelina oil
5 tablespoons of balsamic vinegar
1 spoon of mustard
1 tsp honey
chilli
Garlic (1 clove) or powder
Salt and pepper
flowers or pine nuts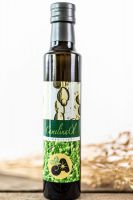 Aufreiter Organic Herb Farming
250 ml
€ 11,-
€ 44,- / liter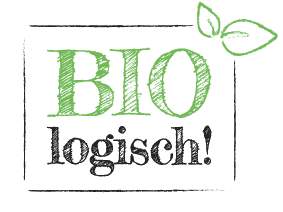 FuXsteiner 1. Dirndlmanufaktur-Dirndltal
100 ml – 250 ml
serve € 10.90
€ 109,- / liter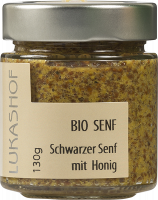 Lukashof's pleasure production
130 g
€ 5.60
€ 43.08/kg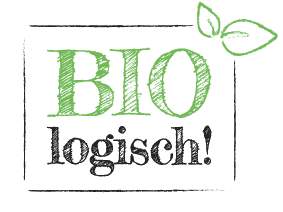 preparation
Mince a little chili and garlic. Alternatively, chili and garlic powder can also be used.
Add ten tablespoons of camelina oil and five tablespoons of balsamic vinegar to a bowl and mix well.
Add mustard and honey.
Season with salt and pepper, stir.
Cut lettuce, tomatoes, cucumbers, … herbs and put them in a salad bowl.
Fry a handful of coconut or pine nuts in a covered pan without oil.
Sprinkle the seeds over the salad with the dressing, mix and serve.
Tip: The farmer's bread from Weingut & Brothof Atschko on Klapotetzstraße goes really well with this.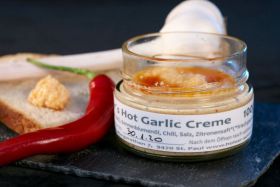 Holzer's Lavender Garlic
100 g
€ 7.90
€ 79,- / kilo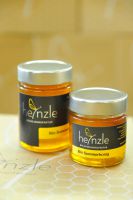 Heinzle Organic Honey Manufactory
250-450 g
serve € 4.90
€ 19.60/kg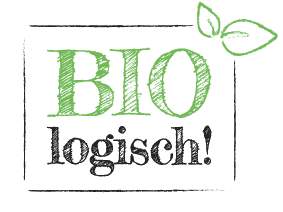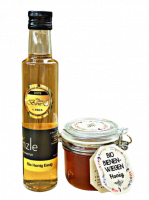 Heinzle Organic Honey Manufactory
1 piece.
€ 30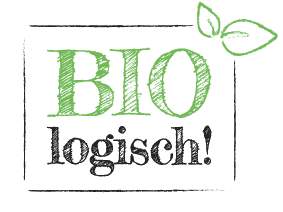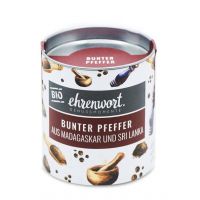 word of honor moments of fun
45 g
€ 5.99
€ 13.31/100g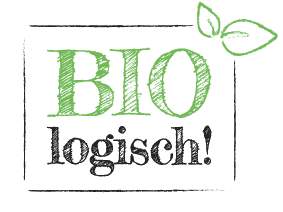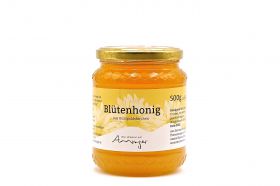 Beekeeping on Anninger
125-1000 g
serve € 4,-
€ 32,- / kilo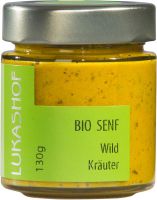 Lukashof's pleasure production
130 g
€ 5.60
€ 43.08/kg